Brought to you by
Norwich Pagan Sphere
---
Pudding Dolls
EAMMM 2005.47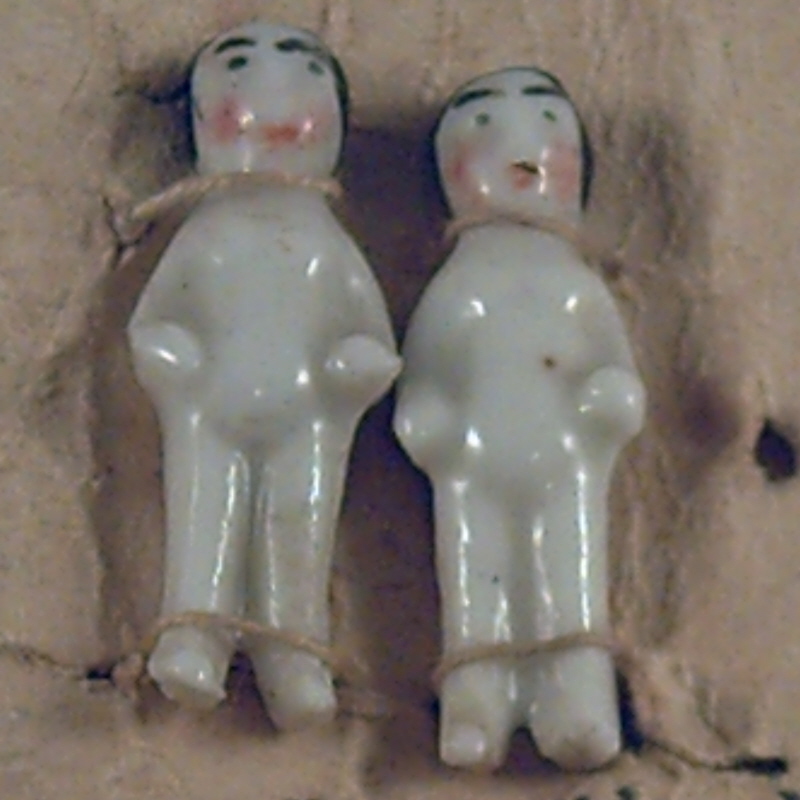 Tiny porcelain dolls like these are best known in Britain as Christmas Pudding Dolls, if not as common as silver sixpences. Finding one in a serving of pudding indicated good fortune in the year ahead, or even fertility in a more direct sense perhaps.
Porcelain dolls were first made in Germany in the 19th century, but production spread at least to France. Porcelain dolls had many uses. The larger sizes were standard, if rigid dolls. At the other end of the scale, miniature specimens were used to cool drinks. (Such 'Frozen Charlottes' were literally frozen and used like ice cubes.) They were also used as 'favours' in Christmas Puddings, birthday cakes and (especially in France) Three Kings' or Twelfth Night Cakes. Porcelain Three Kings' Cake figurines became very varied however, whereas the diverse favours and charms found in Christmas puddings are mostly metal. The use of metal favours became quite common in celebratory cakes in the 20th century, particularly in the USA, and sets of fortune-telling charms became available commercially.
The word 'favour' is interesting as it seems to have more than one origin. A 'favour' in English is (amongst other things) a small token of love or goodwill, whether the badge bestowed on a chivalrous knight by a lady or trinkets for guests at a modern party, derived from the Latin favere, 'to protect'. However, its use overlaps with the French word for the same thing when found in a cake: fève, which is simply a bean. Broad beans were the original tokens included in cakes and may or may not have originally been a way of selecting sacrifices (the debate cannot be resolved for lack of evidence).
However, there is a twist with this pair of dolls. They are sown onto a card with text which reads: "Two sweet little kids, oh so white, / You can wash us with all your might, / Handstitched in the box very tight, / So we will never quarrel or fight." This appears odd, until it is realised that the ensemble is only part of the original product.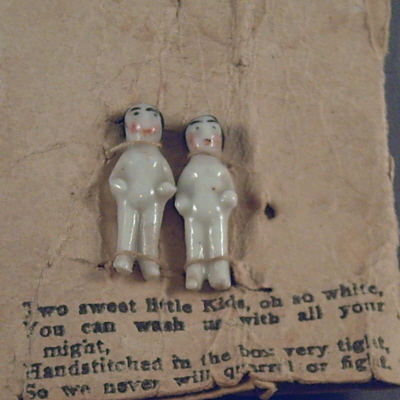 The dolls and card would originally have been sold in an oversize, oblong, flat box with a picture of gloves on the lid and the text: "ONE PAIR / EXTRA FINE / WASHABLE / WHITE / KIDS / WARRANTED / FAST COLOUR / BEST / HAND / SOWN". An example can be seen at Leamington Spa Museum. It turns out that they formed part of a 'gag box' - a practical joke gift produced by H. Fishlove & Co. of Chicago, USA in the 1920s!
Material: glazed porcelain
Height: mm
Width: mm
Date: Probably 1920s CE
Place: Dolls probably made in Germany; gag box from H. Fishlove & Co., Chicago, USA; collected in Cambridge.
---
Return to the List of Collection Highlights
---
This site and its contents, unless otherwise stated, are copyright © Chris Wood and Val Thomas, 2017.